US-Licensed Medical Providers & Pharmacies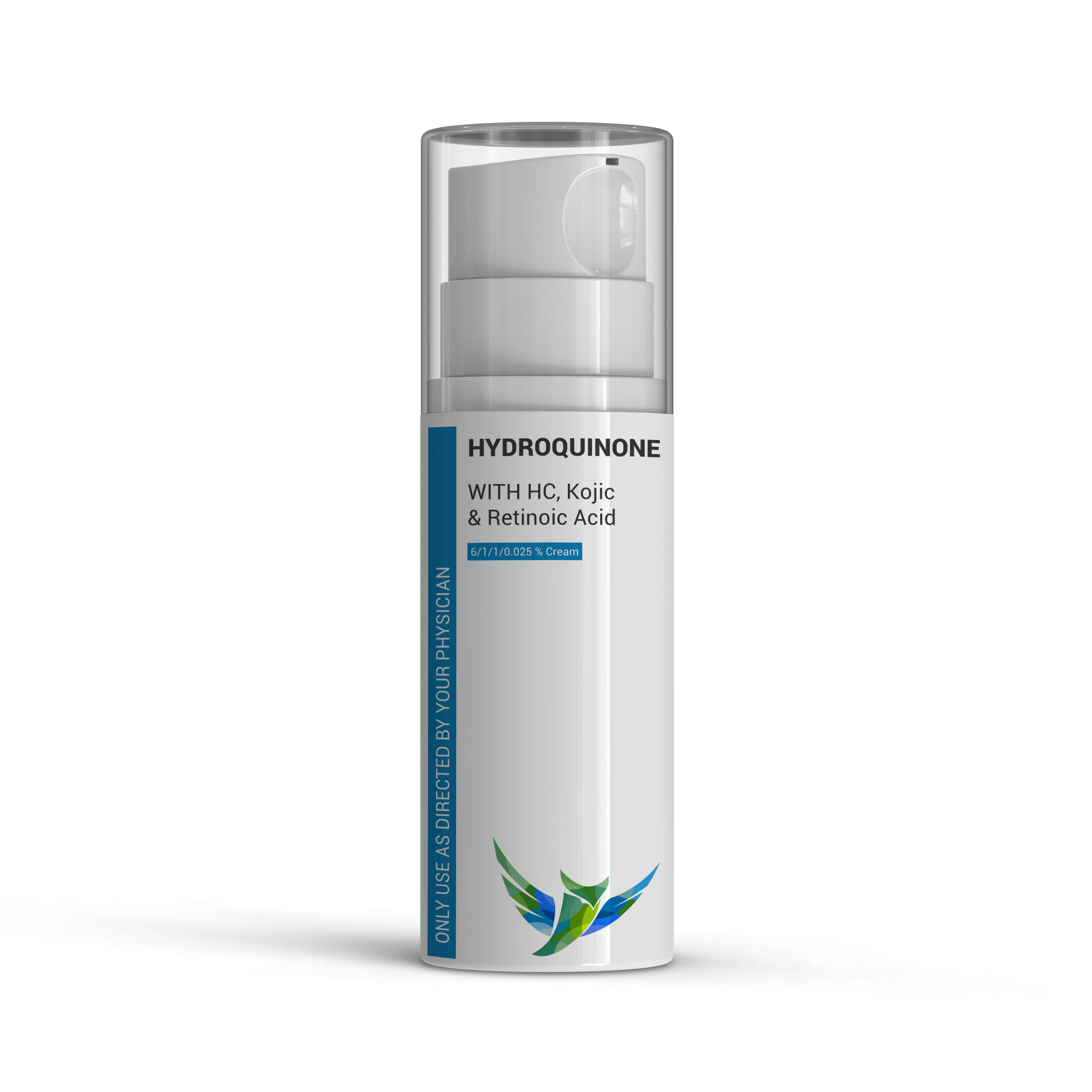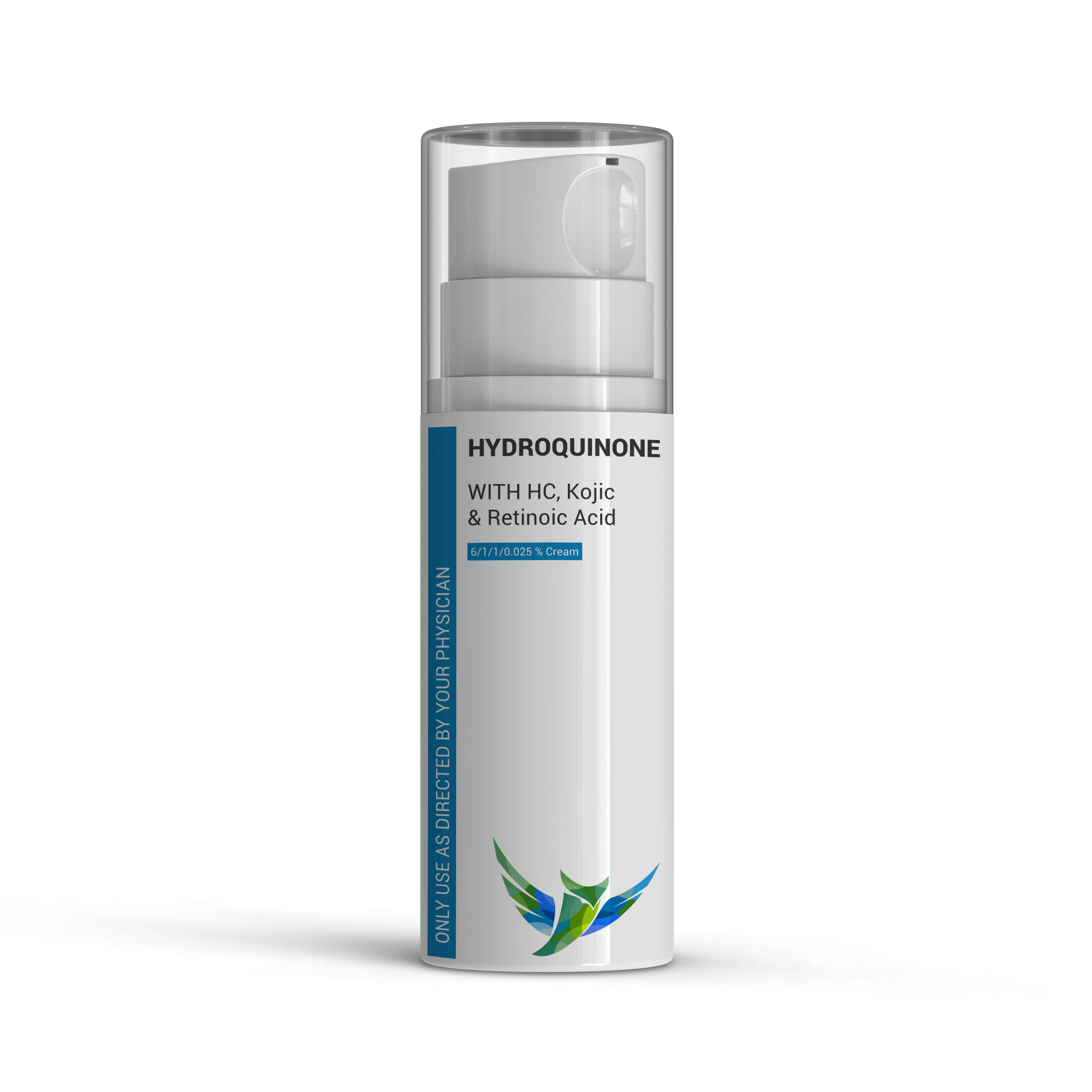 Hydroquinone / HC / Kojic / Retinoic Acid 6/1/1/0.025 % 30g Cream
---
Key Benefits:
---
Elimates Dark Spots
Evens Skin Tone
Sheds Dead Skin Cells
Hydroquinone/HC/Kojic/Retinoic Acid Cream
---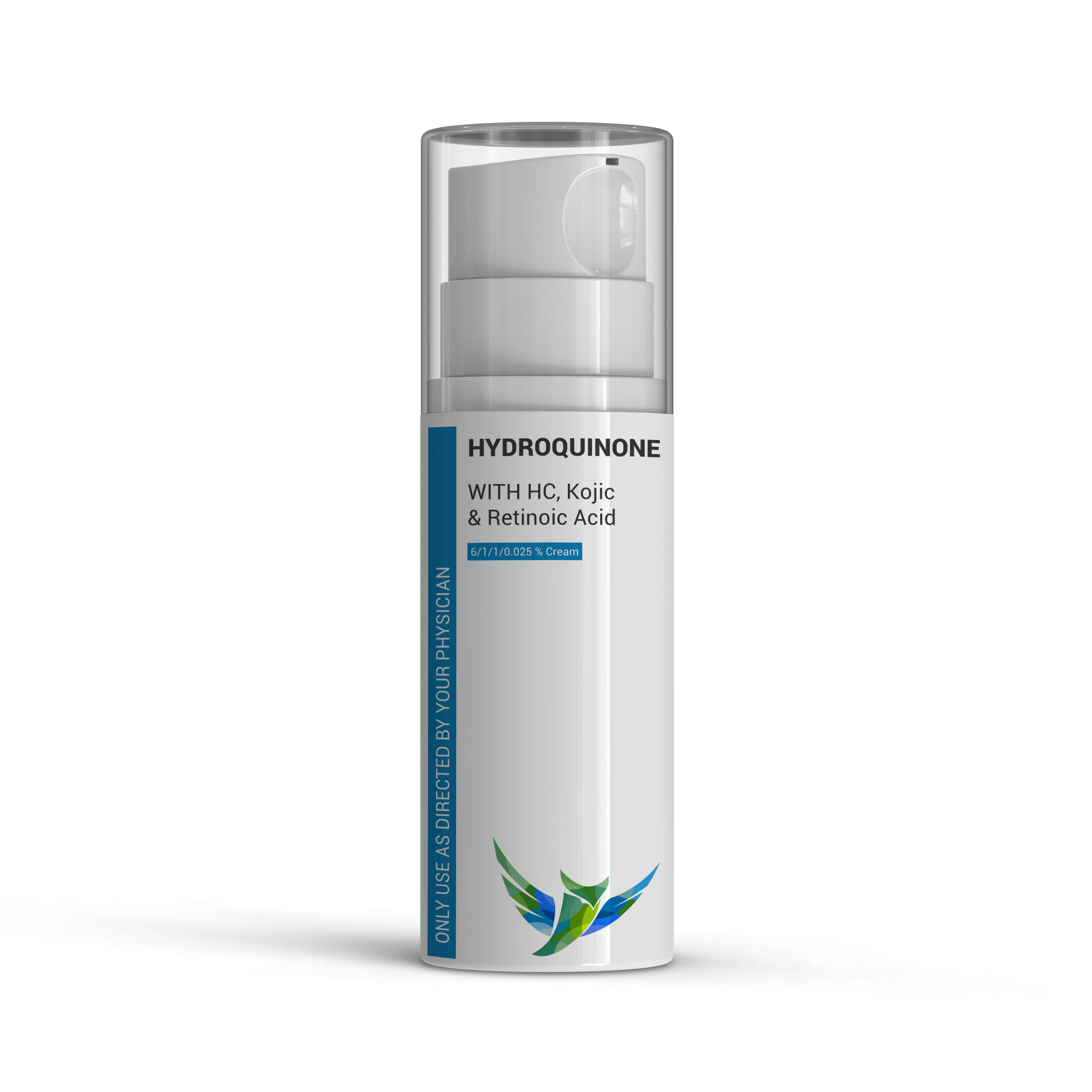 Topical Cream
5 Week Supply
Requires telehealth consult
Not available in AR, CA or NC
---
Hydroquinone Skin Bleaching Cream is a highly potent Rx bleaching solution that gradually lightens and inhibits hyperpigmentation by altering the natural processes that cause cell damage.
---
Hydroquinone / HC / Kojic / Retinoic Acid
Brent Agin MD
03/06/2023 7:08PM
Hydroquinone Skin Bleaching Cream is a highly potent Rx bleaching solution that gradually lightens and inhibits hyperpigmentation by altering the natural processes that cause cell damage.
Specifically created to help even skin tone by slowing melanin production, it dramatically reduces the appearance of dark spots, chloasma, melasma, freckles and sun damage for an even skin tone. While the hydroquinone helps eliminate dark spots and even skin tone, the Retinoic Acid or Tretinoin component of this product breaks up and sheds dead skin cells to reveal fresh new skin underneath.
Safety Information
Important Information:
Important Safety Information for Hydroquinone Contraindications: People with prior history of sensitivity or allergic reaction to this product or any of its ingredients should not use it. The safety of topical hydroquinone use during pregnancy or in children (12 years and under) has not been established. Warnings: Avoid contact with eyes, nose, mouth, or lips. In case of accidental contact, patient should rinse eyes, nose, mouth, or lips with water and contact physician. Sunscreen use is an essential aspect of hydroquinone therapy because even minimal sunlight exposure sustains melanocytic activity. Contains sodium metabisulfite, a sulfite that may cause allergic-type reactions including anaphylactic symptoms and life-threatening or less severe asthmatic episodes in certain susceptible people. The overall prevalence of sulfite sensitivity in the general population is unknown and probably low. Sulfite sensitivity is seen more frequently in asthmatic than in non-asthmatic people. Precautions (also see warnings): Treatment should be limited to relatively small areas of the body at one time since some patients experience a transient skin reddening and a mild burning sensation, which does not preclude treatment. Pregnancy Category C: Animal reproduction studies have not been conducted with topical hydroquinone. It is also not known whether hydroquinone can cause fetal harm when used topically on a pregnant woman or affect reproductive capacity. It is not known to what degree, if any, topical hydroquinone is absorbed systemically. Topical hydroquinone should be used on pregnant women only when clearly indicated. Nursing Mothers: It is not known whether topical hydroquinone is absorbed or excreted in human milk. Caution is advised when topical hydroquinone is used by a nursing mother. Pediatric Usage: Safety and effectiveness in children below the age of 12 years have not been established. Use of the product should be discontinued if hypersensitivity to any of the ingredients is noted. **Must use daily sunscreen protection everyday while using this product ** Product containing hydroquinone is not intended for long term use and should be used in a "Pulse Therapy" manner due to the possibility of rebound hyperpigmentation. Pulse Therapy is typically done in 5 month cycles: 3 months nightly then slowly taper off over 2 months. Stop for 3 months then repeat cycle as needed or until desired results are achieved. Disclaimer: Compounded medications are customized pharmaceutical products and have not been approved by the Food and Drug Administration as safe and effective for the treatment of any medical condition. Compounded medications offered as an alternative to FDA approved medications and may contain FDA approved medications and non-FDA approved medications.
Ingredients:
HYDROQUINONE/HC/KOJIC/RETINOIC ACID 6/1/1/0.025 % CREAM 30 grams